» Home » Other Events

: has video

: has comments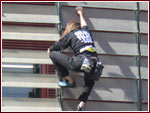 Alain Robert does it again! In Spain!



Alain Robert has climbed the 140 meters tall Agbar Tower in Barcelona. In a ?Climb for Peace?, Alain Robert scaled the bullet-shaped, new Catalan icon in Spain. » Read More




Alain Robert climbs in Mexico City



Alain Robert, the French daredevil famous for scaling some of the world's tallest buildings, made it to the top of a Mexico City skyscraper on Thursday, December 7, 2006. » Read More




GoldenPalace.com Sponsors Air Guitar Championships



An army of air guitar gunslingers was on hand to strut their stuff in the northern Finnish city of Oulu this past weekend for the Air Guitar World Championships, sponsored by GoldenPalace.com! » Read More




Museum of Oddities On Tour!!



Requests from fans and players alike to see the collection has been overwhelming so we decided to bring it all to them by creating a museum on wheels. » Read More




GoldenPalace.com in surprise TV appearance!



In the USA Network show "The Dead Zone", as Johnny is walking though an office complex, he glances into one of the cubicles, and what should he see? Someone's playing online at GoldenPalace.com! » Read More




Grilled Cheese seller gets Grilled Cheese Tattoo!



The original owner of the Virgin Mary Grilled Cheese Sandwich is having its likeness tattooed on her chest. Diana Duyser, from Fort Lauderdale, FL was inked with a facsimile of the famous sandwich. » Read More




GoldenPalace.com, now at your local bookstore!



GoldenPalace.com has played a significant role in eBay?s transition from auction site to marketing tool. And historic purchases like the Virgin Mary Grilled Cheese have propelled them into the limelight. » Read More




GoldenPalace.com enters Howard Stern film contest!



Most people have heard of Howard Stern, and now he?s making waves on Sirius Satellite Radio. Recently, he announced The Howard Stern Film Festival, and received over 2,000 entries. » Read More




WANTED, DEAD HEAD OR ALIVE!



The toilet formerly owned by Grateful Dead leader Jerry Garcia and bought on eBay by GoldenPalace.com a few weeks ago has been stolen. The casino paid just over $2,500 for the deadhead?s head. » Read More




GoldenPalace.com - Outstanding in their field!


Recently, a magazine made headlines by placing a larger-than-life copy of their cover in a field. GoldenPalace.com beat them to it by having their online casino?s name ?written? in a farmer?s field last November. » Read More




Alain Robert Sighted Climbing Skyscraper in France!



Alain Robert is the French skyscraper climber who holds the world record for most successful climbs of the world's tallest structures. » Read More




GoldenPalace.net sponsors ?King of Vegas? on SpikeTV!



Spike TV is airing a new show called the ?King of Vegas?. And GoldenPalace.net Online Casino School is a sponsor of the show! » Read More




The Shadows of GroundHog Day



Traditionally, it is on this day that the groundhog is supposed to awaken and come up out of his burrow. If he sees his shadow, he will return to the burrow for six more weeks of winter. » Read More




Mothers Pose for Charity!


Twelve of the hottest moms from the U.S. are banding together to support Operation Homefront. The sexy moms are featured in a new calendar called ?The Official Mylf Calendar.? » Read More




Alain Robert conquers Paris skyscraper!



In yet another extreme climbing escapade, Alain Robert successfully climbed a 42-story building in Paris. GoldenPalace.com logos were clearly visible as he scaled the tower on December 20th. » Read More




GoldenPalace.com Lights up the Night Sky!!


The 37th street ?Street of lights? started in 1980 and now, GoldenPalace.com is proud to purchase the decorating rights to a house that would otherwise have been dark this year. » Read More




Lights! Cameras! Poker Action! At the Yari Film Festival!



GoldenPalace.com took a front seat along with some notable Hollywood Stars at the recent Yari Film Group Event. The co-sponsors of this event also hosted the Hollywood Hold?em Poker tournament. » Read More




Dennis Rodman Lucky To Be Alive



Dennis Rodman really should be dead by now, and his entrance at the official book signing of his upcoming biography proved he has a sense of humor about it. » Read More




GoldenPalace.com makes mainstream music video debut!



GoldenPalace.com is everywhere these days, even appearing in the hit Ludacris video ?Pimpin? All Over The World". » Read More




GoldenPalace.com Supports Dan Smith USO Comedy Tour



Comedian Dan Smith as in Okinawa, Japan for his 10th USO Comedy Tour, and GoldenPalace.com made sure he was well-clothed! » Read More




A Flower By Any Other Name...


GoldenPalace.com, the internet casino famous for outrageous and sometimes controversial advertising campaigns is showing a softer side with their latest marketing idea, paying $5,000 to name a new Daylily flower. » Read More




GoldenPalace.com hits the streets with wearable TV


The Online Casino famous for its unorthodox advertising techniques has scored again with wearable TV advertising on the streets of Las Vegas, the gambling center of the universe. » Read More




Fastest Talking Woman Takes Dive to Titanic Wreckage



The world?s fastest talking woman Fran Capo took the dive of her life on July 10 when she descended 2 1/2 miles under the Atlantic Ocean to say a speedy prayer for the victims of the infamous Titanic. » Read More




Ad Campaign Climbs To New Heights



Daredevil free-climber Alain Robert scaled Hong Kong?s 62-story Cheung Kong Center skyscraper with his bare hands on Saturday, wearing the ever-popular tattoo of GoldenPalace.com. » Read More




CBS Reports On Golden Palace?s Unique Marketing Campaign



CBS recently reported on how online casinos are legally restricted from advertising in traditional media, and how they?ve found a ?new? media ? body billboards. » Read More




UPDATE: Temporary Hold on Planned Flight to Space



The GoldenPalace.com Space Program Powered by the da Vinci Project announced that it has revised its October 2nd planned flight to space in pursuit of the Ansari X PRIZE. » Read More




Announcing the GoldenPalace.com Space Program


In another first for the industry, GoldenPalace.com will boldly go where no casino has gone before with The GoldenPalace.com Space Program. » Read More




Alain Robert Defies Gravity Down Under



The world famous daredevil named Alain Robert climbed the Sydney Harbour Bridge with GoldenPalace.com displayed on his chest and back. » Read More




GoldenPalace.com gets Exposure while Gleny has fun!



Gleny loves to have fun, and he travels all over the country with his friends to do it! And he often takes GoldenPalace.com along for the ride too! » Read More