» Home » Other Events » WANTED, DEAD HEAD OR ALIVE!
WANTED, DEAD HEAD OR ALIVE!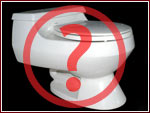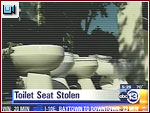 » Play Video

GoldenPalace.com Offers $5000 Reward for Jerry Garcia?s Toilet

Monday, April 03, 2006 -- The toilet formerly owned by Grateful Dead leader Jerry Garcia and bought on eBay by GoldenPalace.com a few weeks ago has been stolen. The casino paid just over $2,500 for the deadhead?s head. They are now offering a reward of double that amount.

The toilet was taken from a driveway along with three other toilets and a bidet. It is not yet clear if the toilet was taken by a Grateful Dead fan or if it was just a random act of larceny. Police have no leads or suspects yet.

Although the casino paid $2550 for the toilet, they are offering a reward of $5000 to get it back. GoldenPalace.com was planning to use the toilet to help raise money for charity by taking it on tour with the other items in their traveling museum. They feel the toilet?s value has increased with this incident, and it will generate even more public interest when they use the toilet as part of a charity campaign.

If you have any information on the whereabouts of the toilet, email us at . If your information leads to the recovery of the toilet, you will receive a $5000 reward.


« Back to

Other Events Main Page






Comments on this event
---
On April 04th, 2006 at 1:02 PM WackoLaRue said:



Stealing a dead man's toilet. That's shitty!
---
On April 07th, 2006 at 2:57 PM SHIM said:



Something Smells really SHITTY about this. I am PISSED.
---
On April 07th, 2006 at 11:22 PM canada said:



why would anyone buy jerry's toilet and then keep it in the driveway ? theft waiting to happen!!
---
On April 10th, 2006 at 7:36 AM dan said:



if you lick the toilet, do you start tripping?
---
On April 11th, 2006 at 12:52 PM shippy30 said:



When they get it back I'll bet they'll say what a long strange trip its been.
---
On April 12th, 2006 at 10:58 AM chuckestir said:



Word on the street is that it's on a Long> Strange> Shit;*/
---
On April 17th, 2006 at 3:17 AM ThumperLaRue said:



Going down the road feeling bad...
---
On April 29th, 2006 at 1:04 AM Jerry Ass said:



Who can I turn to now?
---
On May 04th, 2006 at 12:05 PM GP FAN said:



GP, "Don't Think Twice, It's All Right."
---
On May 07th, 2006 at 6:15 PM gratefulrick said:



oh well, shit happens!
---
On May 14th, 2006 at 6:23 PM Jeff A Willborn said:



Its A Shitty Job But Someone Had To Do It
---
On May 17th, 2006 at 2:16 AM LJ said:



Wow, all that money down the toilet!
---
On June 08th, 2006 at 10:47 PM PFFT said:



THEY WERE PROBABLY HIGH ON COCAINE
---
Add a comment