» Home » Other Events » GoldenPalace.com Supports Dan Smith USO Comedy Tour
GoldenPalace.com Supports Dan Smith USO Comedy Tour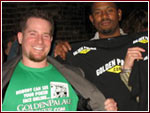 » View Photo Gallery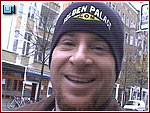 » Play Video

Comedian Dan Smith (www.DanSmith.com) was in Okinawa, Japan for his 10th USO Comedy Tour, and GoldenPalace.com made sure he was well-clothed! Check out a hilarious clip of the very funny Smith giving his views on caulk.

Many of these US troops were among the first to respond to the tsunami disaster in Sri Lanka. We commend Dan and all the other performers who are donating their time to make life better for the troops that are so far from home by bringing them the gift of laughter to brighten their day.

Thanks from GoldenPalace.com to all the brave men and women who are out there risking their lives to help make the world a safer place. We salute you and are forever in your debt. Keep safe and come home soon!


« Back to

Other Events Main Page






Comments on this event
---
On September 27th, 2005 at 3:02 AM Jessica said:



He's damn funny!!!!!!!!! And cute, too :)
---
On November 01st, 2005 at 2:56 PM notgayguy said:



but boy is he short!
---
On October 19th, 2006 at 4:39 AM Bobby said:



I saw Dan perform in Germany last year and he gave me one of your hats! He\'s funny as f*ck - and thanks for the hat!!
---
Add a comment