» Home » Other Events » Alain Robert conquers Paris skyscraper!
Alain Robert conquers Paris skyscraper!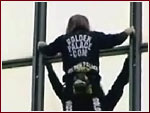 » View Photo Gallery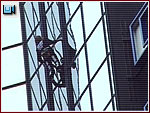 » Play Video

In yet another extreme climbing escapade, Alain Robert successfully climbed a 42-story building in Paris. GoldenPalace.com logos were clearly visible as he scaled the tower on the left bank on December 20th to protest against what he said was unfair treatment by U.S. police. Many onlookers watched as Robert climbed to the top of the Cristal Tower, which is 308 feet high, in approximately 20 minutes.

You may recall our earlier story about how Robert was arrested in November, just as he was about to begin climbing a building in Houston, Texas, and was charged with trespassing and drug possession. After that incident, he spent 24 hours in jail and was released on $1,500 dollars bail. All along, he has maintained that he was carrying a prescribed medicine called Urbanyl used to treat epilepsy.

Robert has become quite famous as an urban extreme climber for using no ropes, no bolts and no safety net. He has scaled many of the most renowned skyscrapers in the world, notably Taipei 101, the tallest building in the world, which is 1,671 feet high. His next challenge will be the 840 feet high Mok-dong Hiperion I in Seoul, Korea next January.

This is the fourth report on Alain Robert's infamous climbs around the world, with the logo of the Golden Palace Online Casino emblazoned on his climbing outfit, and it?s almost certain that it won?t be the last. With GoldenPalace.com?s penchant for sponsoring the weird and the wonderful, you can be sure that you?ll hear about more interesting events, right here on this site.


« Back to

Other Events Main Page






Comments on this event
---
On January 05th, 2006 at 12:17 AM Nate said:



It was sad seeing him getting arrested. Spiderman is one brave guy and hope to see him climbing a building near me.
---
Add a comment