» Home » Other Events » Grilled Cheese seller gets Grilled Cheese Tattoo!
Grilled Cheese seller gets Grilled Cheese Tattoo!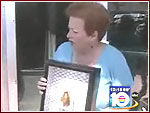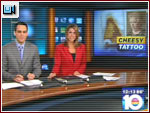 » Play Video

The original owner of the Virgin Mary Grilled Cheese Sandwich is having its likeness tattooed on her chest. Diana Duyser, from Fort Lauderdale, FL was inked with a facsimile of the famous sandwich and will now be able to carry it with her close to her heart wherever she goes. Ms. Duyser kept the food item in her freezer for 10 years before she decided to sell it online. The 11-year-old grilled cheese sandwich has now been in the possession of GoldenPalace.com since they purchased it on eBay in November of 2004. The media attention generated by this now infamous auction buy has yet to subside. And now there?s more news about the celebrated sandwich.

Diana says that after she made the sandwich, she went to take a bite of it, and realized that it was staring back at her. That?s when she realized that it was something special. She didn?t use any unusual ingredients to make it, and it has never had anything done to it to preserve it in its pristine (though missing a bite) condition. Some people think that the fact that it has never become moldy or deteriorated in any way, is proof of its divine powers.

You may visit the original event page for the Virgin Mary Grilled Cheese Sandwich here, where an archived version of the original eBay auction page is also available.


« Back to

Other Events Main Page






Comments on this event
---
On June 06th, 2006 at 10:25 AM SHIMMER said:



HI GRILLED CHEESE LADY, WE LIVE BY EACH OTHER...DO YOU WANT TO DO HAPPY HOUR THIS WEEK? THAT WOULD BE HOT!
---
On June 09th, 2006 at 6:22 PM GoldenChestGirl said:



That is so cool!...I just watched the video. So how did ya like getting the tat? It wasn't as bad as you expected right? I still have people asking me if mine hurt when I got it...LOL
Golden Palace Rocks!
---
On July 26th, 2006 at 7:42 PM penny said:



She should have used the money for some teeth!
---
On October 28th, 2006 at 1:20 PM nike said:



Cool Guest.
---
Add a comment