» Home » Other Events » GoldenPalace.com in surprise TV appearance!
GoldenPalace.com in surprise TV appearance!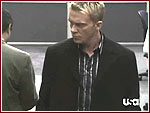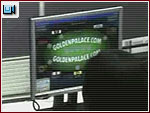 » Play Video

In the USA Network show "The Dead Zone", GoldenPalace.com has made a cameo appearance. As Johnny is walking though an office complex, he glances into one of the cubicles, and what should he see? Someone's playing online at GoldenPalace.com! It's always big news when the #1 Online Casino is on TV, but it's usually on the news when they've bought something extra special at an online auction. This time, it's a cameo appearance on an office worker's computer monitor.

There have been other instances of GoldenPalace.com showing up "unannounced" on TV in the past too. At the 2004 MTV Europe Music Awards, two enthusiastic fans made it on stage at the waving Golden Palace flags during a performance. They also bought a walk-on part in an HBO comedy series on eBay. The show is called "Curb Your Enthusiasm" and stars Larry David. There was also a brief mention of the Virgin Mary Grilled Cheese Sandwich on NCIS not that long ago. And of course there are the countless news reports of the online casino's unique marketing antics.


« Back to

Other Events Main Page






Comments on this event
---
On November 02nd, 2006 at 10:34 PM SIMONY said:



Long time we dont see GOLDEN PALACE AROUND THE WORLD
WAT HAPENUNG ???? WERE IS ALBERT ???? LETS GO GOLDEN PALACE WE NEED TO SEE THE CRAZIS APARIONS AGAIN !!!
---
Add a comment