» Home » Other Events » GoldenPalace.com enters Howard Stern film contest!
GoldenPalace.com enters Howard Stern film contest!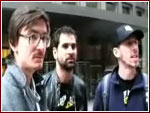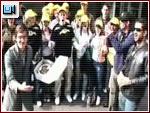 » Play Video

Most people have heard of Howard Stern, and now he?s making waves (radio waves, that is) on Sirius Satellite Radio. He?s got a brand new show, and its popularity is rising every day. Recently, he announced The Howard Stern Film Festival, and received well over 2,000 entries! Golden Palace Online Casino sponsored one of those entries, and you can see it by clicking on the link in this window.

The idea behind this entry into the contest was to get 1000 people to gather outside Howard?s office on in New York and sing ?Happy Birthday? to him in hopes that he?d come out for some cake! Check it out to see what happened!

We hope you have fun watching the video, and for more information about Howard Stern?s show, and other interesting tidbits, visit www.howardstern.com. And be sure to visit our video archives page (see the link on the left hand side of this page) for more interesting and fun videos featuring GoldenPalace.com!


« Back to

Other Events Main Page






Comments on this event
---
On July 10th, 2006 at 8:47 PM Nang said:



I'll be Mike Book's extra! I was an extra in Spiderman 3! It would of been awesome to see 1,000 people singing happy birthday to Howard.
---
Add a comment