» Home » Other Events » Alain Robert does it again! In Spain!
Alain Robert does it again! In Spain!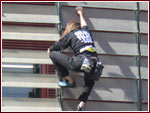 » View Photo Gallery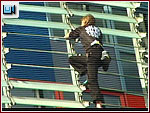 » Play Video

Alain Robert has climbed the 140 meters tall Agbar Tower in Barcelona. In a ?Climb for Peace?, Alain Robert scaled the bullet-shaped, new Catalan icon in Spain. The building is covered by more than 4 400 window openings that are cut out of the structural concrete. Robert is renowned for climbing without ropes or other equipment, and he scaled the world's tallest building - the 511m Taipei 101 in Taiwan - in December 2004. He has also climbed the Petronas Towers in Kuala Lumpur, the Eiffel Tower in Paris and the Empire State Building in New York.

With the GoldenPalace.com logo prominently displayed on his back and legs, the online casino has gotten some great exposure from this latest climb. Starting at about 10am local time, he reached the top in about 20 minutes. Mr. Robert was making a statement against the violence that has erupted recently between Israel and Lebanon. With this climb he is hoping to promote a peaceful resolution to the current conflict. He said he did it -in the middle of a heat wave and without anything but his own hands- for "the peace in Lebanon".

The 43-year-old Robert has climbed over 60 skyscrapers and landmarks world-wide including Malaysia's Petronas Towers, the Eiffel Tower, the Empire State Building, and the straight-faced, glass-fronted Sears Tower in Chicago-the highest occupied building in the world.


« Back to

Other Events Main Page






Comments on this event
---
None yet. You could be the first!
---
Add a comment