» Home » Streaking Events

: has video

: has comments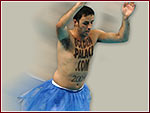 Surprise Streak, Surprise Gold For The Greeks!


There was an unexpected twist to yesterday's Olympic Men's Synchronized 3M Springboard Finals when a streaker climbed the diving platform... » Read More




Skating Streaker's Outfit Sold on eBay


For $6,400 US, GoldenPalace.com picked up the actual costume that Ron Bensimhon wore at the 2004 World Figure skating Championships. » Read More




Toyota Cup Soccer Exposure for GoldenPalace.com


At the Toyota Cup in Yokohama, Japan, a ?streaker? ran across the field during the game. Not as undressed as your usual streaker, but wearing the GoldenPalace.com logo on his shirt. » Read More




Cricket finally becomes an exciting game!!



Mark Roberts has made another splash with his latest streak. At the 5th day of the Ashes Test Match in Kennington, UK, Roberts did some ballet-type moves around the field in nothing more than a tutu and thong. » Read More




Skater Streaks World Figure Skating Championships



Dortmund crowds aghast in Ladies Free Program event of World Figure Skating Championships 2004 when GoldenPalace.com emblazoned streaker strikes for skating gold... » Read More




'Super Bowel' streaker makes irregular appearance at Super Bowl XXXVIII



Notorious British streaker Mark Roberts pulled off his first successful North American streak at Super Bowl XXXVIII. » Read More




Mark Roberts streaks Real Madrid Home Opener



The well-known streaker was wearing nothing but a GoldenPalace.com ad tattoo on his torso, the phrase 'I'm The Real Goldenballs' on his chest in reference to Madrid's recently signed Golden Boy David Beckham. » Read More




Ron Simon streaks Women's British Open



The crowd hissed and booed as Simon was escorted off the course by security, and Sorenstam's caddie Terry McNamara even went so far as to give him a swift kick in the rear. » Read More




Laura Gosling streaks British Open... TOPLESS!


As British Open winner Ben Curtis was being handed the Claret Jug, a topless Laura Gosling broke away from the crowd and made a beeline to present him with a kiss. » Read More




Mark Roberts streaks World Swimming Championships!


Mark Roberts, dressed only in a pink tutu, red bathing cap, and a GoldenPalace.com tattoo did a little ballet dance before jumping into the pool during the synchronized swimming final of the World Swimming Championships. » Read More




Mark Roberts runs with the bulls!



Notorious serial streaker Mark Roberts sprints after bulls that nearly trampled him while promoting Internet casino GoldenPalace.com. » Read More




Mark Roberts streaks Royal Ascot!



In honor of Ladies' Day at Royal Ascot, the infamous Mark Roberts arrived at the event dressed in elaborate drag, wearing a full-length black batwing dress. » Read More



Mark Roberts streaks French Open Tennis


English serial streaker Mark Roberts... clad only in three strategically-placed tennis balls raced onto court during a second set changeover and leaped over the net before being frogmarched out of the arena by a bevy of security guards. » Read More




Mark Roberts streaks UEFA Cup Final



Players looked somewhat confused as a man dressed as a referee ran to center field, presented a red card, then tore away his clothes to reveal the words 'GoldenPalaceCasino.com Click Here' on his back. » Read More