» Home » Streaking Events » Mark Roberts streaks Royal Ascot!
Mark Roberts streaks Royal Ascot!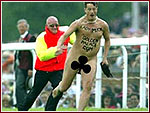 » View Photo Gallery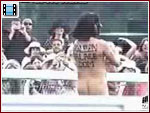 » Play Video

June 19, 2003, Berkshire, UK

-- Notorious serial streaker Mark Roberts crashed the Royal Ascot today while sporting temporary tattoos advertising Internet casino GoldenPalace.com.

The Royal Ascot is renowned for its strict dress code. Ladies are asked to wear formal day dress with a hat covering the crown of the head. Only black or gray morning dress with the top hat or service dress is acceptable for gentlemen. In general, most people attending Royal Ascot take the opportunity to put on their best clothes.

Not surprisingly, a naked Roberts caused quite a stir. In honor of Ladies' Day, the infamous streaker arrived at the event dressed in elaborate drag, wearing a full-length black batwing dress. At 3:40 PM local time, he jumped onto the track as the horses and riders were warming up for the main race. Pretending to be intoxicated, Roberts stumbled around the track while slowly performing a strip tease for an increasingly appreciative crowd. Then, in an absolutely hilarious display, Roberts removed the rest of his clothing and ran along the track smacking his rump and galloping along with the horses that sped past him. Roberts' antics won the crowd over as they cheered and laughed before security removed him from the track.


« Back to

Streaking Events Main Page






Comments on this event
---
On September 21st, 2005 at 2:54 AM Bill Clinton said:



Wish I had been there.
---
On January 19th, 2006 at 7:11 AM Carol Jones said:



This guy is AWESOME! Keep doing what your doing so we can all get a laugh.
---
Add a comment