» Home » Sports Events » New Lobster-Roll Eating World Record!
New Lobster-Roll Eating World Record!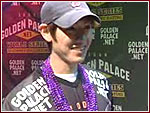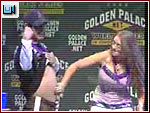 » Play Video

SEPTEMBER 23, 2006, BOSTON, MA - The world's greatest competitive eater, Takeru Kobayashi, set a new world record by consuming 41 lobster rolls in just 10 minutes. That's a pretty quick way to make $10,000 in prize money! The GoldenPalace.net World Lobster Eating Challenge pitted a team of 4 other competitors against Kobayashi. Unfortunately, they only managed to eat 25 rolls between them. Since turning professional in 1998, the Japanese eating star has never been defeated in the U.S.

Kobayashi generally stays in and around his Tokyo home base, except for his annual trip to Coney Island to take on the Americans in eating Hot Dogs, his speciality, where he holds the world record for 53 1/2 hot dogs and buns consumed in 12 minutes.

Earlier, at the same event, there was a contest where a group of amateur eaters tried for a $100,000 prize in the GoldenPalace.net Amateur Challenge. Anyone who could eat more than 15 Grilled Cheese sandwiches would take home the prize money; unfortunately, none of the contestants could eat more than five.

Sponsored by online casino GoldenPalace.net, and inspired by their famous purchase of the Virgin Mary Grilled Cheese Sandwich on eBay, the eating contests have been a hit all over the country. People flock to watch these competitors gorge themselves on everything from ice cream to you guessed it, grilled cheese sandwiches to Lobster Rolls.

Watch the video to see the huge amount of food consumed by Mr. Kobayashi. And be sure to keep your eyes open for the next GoldenPalace.net eating competition because you never know where they might show up next!


« Back to

Sports Events Main Page






Comments on this event
---
None yet. You could be the first!
---
Add a comment