» Home » Sports Events » Welterweight Hector Camacho Jr. at Pechanga Casino.
Welterweight Hector Camacho Jr. at Pechanga Casino.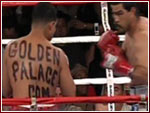 » View Photo Gallery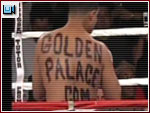 » Play Video

The Latest GoldenPalace.com Boxer!
Welterweight Hector Camacho Jr. (39-1-1, 22KOs), sporting a GoldenPalace.com tattoo on his back, made his first appearance at the Pechanga Casino. He was successful but the fight was not without some glitches. The first one came in the 1st round when Camacho was knocked down with a hard right from Nelson Estupinan (12-2, 8 KOs). Later, Camacho landed a good shot of his own that sent Estupinan into the ropes. In the 2nd round, Camacho Jr. chose to box and won the round despite a lull in the action. Camacho Jr. seemed to get caught and hurt as he held on to Estupinan in order to shake off the cobwebs. A hard right from Estupinan sent Camacho scrambling all over the ring and he put his gloves on the canvas. This counted as a second knockdown for Estupinan. In the 4th round, Camacho boxed well and stayed out of Estupinan?s range as he won the round. The 5th round came and Camacho?s straight left was paying off as Estupinan could not avoid it. The 6th round was a copy of the 5th. The 7th round was all Camacho as he hit Estupinan with everything he had. The 8th was Camacho?s, as he landed several hard shots towards the end of the round to secure a points victory. The scores were 76-74 for Camacho Jr.

Mr. Camacho is following in the steps of several other boxers who have been sponsored by Golden Palace Online Casino, and will most likely no be the last to do so. With GoldenPalace.com?s penchant for tattooing all sorts of people?s bodies to make advertising news, you can be sure to see more of this type of thing coming soon to a location near you. One of the most recent big splashes is the three pregnant sisters that have the online casino?s logo tattooed on their bellies.


« Back to

Sports Events Main Page






Comments on this event
---
On October 26th, 2005 at 11:06 AM Rocky said:



That dress is hilarious... his ass looks huge!
---
On October 26th, 2005 at 11:11 AM Me caMACHO! said:



Yep. I think he DID have an accident with an ostrich :D !!
---
On February 16th, 2006 at 10:57 PM goldengirl1985 said:



I followed his father as a boxer and now to see his son following his father's footsteps. This is a great way to get into more exposure for a growing online casino known for the unusal bids and buys.
Either way it is all good. keep it up gpc.
I always watch boxing sport events, wonder who will be next.
---
Add a comment