» Home » Sports Events » Marketing stunt lands GoldenPalace.com in prison!!
Marketing stunt lands GoldenPalace.com in prison!!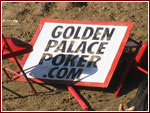 » View Photo Gallery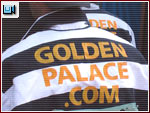 » Play Video

Online Casino Sponsors Angola Prison Rodeo

Story Summary:

After several years of outrageous public marketing spectacles online casino GoldenPalace.com has finally gone to jail. The Internet casino recently sponsored the Angola Prison Rodeo, the longest running prison rodeo in the country.

Since 1965, the Angola Prison Rodeo has been a staple of the Louisiana area and one of the most popular rodeo events in America .

GoldenPalace.com added its personal touch to the event by having the animals tattooed with its web address, and a last-man-sitting poker game in the middle of the rodeo ring. Four inmates were seated at a makeshift poker table while a bull was released into the ring. The last poker player to run for his life won $1000.

Proceeds from the Angola Prison Rodeo cover rodeo expenses and supplement the Louisiana State Penitentiary Inmate Welfare Fund, which provides for inmate educational and recreational supplies.
B-Roll Includes

* Rodeo
* Bulls
* Last-Man-Sitting Poker Game
* Bull Wrestling


---


Saturday October 1, 2005

Arrived at the Hope Farm Bed and Breakfast in Natchez Mississippi. The Hope Farm was built as the home for the Spanish Governor-General in 1775, and is a truly wonderful place. The operator, Mrs. Banta, was gracious and charming as she told us stories of the house, the city, and Mississippi. When I told her we were traveling for GoldenPalace.Com, she thought that was delightful. Even though she doesn?t use the computer herself, she thought it was a great idea for a casino and poker room to be online instead of buying up all the historic waterfront.

Sunday we?re off to the Louisiana State Penitentiary. What was GoldenPalace.Com doing in one of the world?s most famous prisons? Why we?re one of the major sponsors of the 41st Annual Angola Prison Rodeo, of course. This Rodeo runs every Sunday in October, and it?s truly unique. I?m from Texas, so I?ve seen a few rodeos, and I?ve never seen one to equal this one. And GoldenPalace.Com is everywhere you look, on the backs of every participant in the Rodeo. Warden Burl Cain made us very welcome, with seats in the VIP box, and the show was amazing. The convict poker, sponsored by GoldenPalacePoker.Com, is a great example of what makes this a must-see experience. Four convicts sit at a table, a wild bull is released, and the last man at the table wins the prize. Great action and nowhere else on Earth. The Angola Rodeo and GoldenPalace.Com!


« Back to

Sports Events Main Page






Comments on this event
---
None yet. You could be the first!
---
Add a comment