» Home » Charity Events » Hot-rod Rod races in ?Run? revival!
Hot-rod Rod races in ?Run? revival!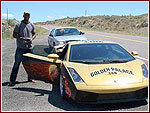 » View Photo Gallery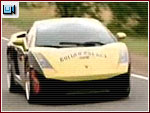 » Play Video

Dennis Rodman is among the many celebrities racing in Bullrun USA 2005, an eight-day, cross-country rally race that is a real-life version of Burt Reynolds? 1981 hit movie Cannonball Run. This race is for charity, not posterity, and raises money for various charities, while staging what its organizer Andrew Duncan, calls "?an epic eight-day rolling party across the United States of America." Mr. Rodman?s car was sponsored by GoldenPalace.com, as if you had to ask!

The race started in LA on Friday, August 26th, with more than 100 racers, each paying a $13,000 entry fee for the chance to race from city to city to become the Bullrun 2005 Champion. Each driver is given a route card and assigned a daily series of checkpoints that they have to reach in a certain period of time to stay in the race. When they reach their destination each day, the stars are then wined and dined with lavish parties at five-star hotels. "So far, we have people show up at each venue, and most of the celebrities are more than happy to talk and sign autographs," Duncan says "?this group is really a lot of fun. We are partying in every city we stop."

Not that there hasn?t been a bit of trouble along the way. Rodman was pulled over twice by Colorado police on Tuesday for speeding and had this to say: "[The police are] doing their job. So, there's nothing I can do about it." And there was a minor fender bender when a Ford Mustang carrying people taking pictures and video of Rodman for his GoldenPalace.com hit his bumper and driver's side door. Fortunately, no one was injured... except the Lamborghini. And then there was the ?incident? at the gas station in Glenwood Springs, Colorado. According to local news reports, Rodman tried on a cowboy hat after filling up, and forgot to pay for it when he left. And that?s not to mention that when he paid for the gas, he also left only half the amount of the cost of the gas. Rodman says: ?The lady gave [the hat] to me,", noting that he had the gas receipt. "If they want me to pay for the hat, I'll give them double for it.?

As far as other races where Golden Palace Online Casino has sponsored someone for charity, Mr. Rodman himself has taken part in a few already, including running with the bulls in Pamplona, Spain not once, but twice. He also took part in the 2005 Wife Carrying World Championships in Sonkaj?rvi, Finland, and promised to make a return appearance for the race next year. There?s no telling where Dennis Rodman may pop up next, so keep an eye on this site for updates!


« Back to

Charity Events Main Page






Comments on this event
---
None yet. You could be the first!
---
Add a comment