» Home » Charity Events » Bulls Eager For Rodman?s Return
Bulls Eager For Rodman?s Return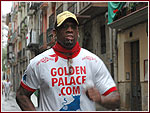 » View Photo Gallery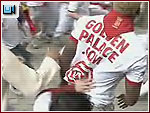 » Play Video

NBA Legend Runs With Pamplona Bulls for Charity



July 11, 2005, Pamplona, Spain ? Although notorious basketball legend Dennis Rodman?s return to the bulls won?t win him another NBA championship, it did raise money and awareness for a much-deserving charity, as the ?Worm? participated in his second Running of the Bulls event sponsored by Internet casino GoldenPalace.com.

This is the second year in a row that Rodman has participated in the famous Running of the Bulls in Pamplona, Spain to benefit charity. Although last year?s run was extremely successful in raising money for Multiple Sclerosis awareness, Rodman was disappointed with his performance because he ?expected to be closer to the bulls?. He promised that this year he would be ?a little closer down, all the way down?and get right next to the bulls?.

Rodman?s sponsor GoldenPalace.com held Rodman to his promise and chose a local charity to support this year, The Multiple Sclerosis Association of Navarra (ADEMNA). The charity received a check for ?10,000 or approximately $12,000 USD.

?We are very pleased to have been a part of this event again,? said GoldenPalace.com CEO Richard Rowe. ?Anytime we have an opportunity to raise awareness and money for such a deserving cause, we will jump at the chance. Hopefully the money raised will help find a cure for the debilitating disease. We wish the Multiple Sclerosis Association of Navarra all the best in their continued efforts.?

Rodman has been one of many celebrity spokespeople for GoldenPalace.com, but he is obviously one of their favorites, as he shares the same love of shock value and outrageous fun that the casino has exhibited in their marketing flair over the past few years.

Setting the standard in marketing creativity, GoldenPalace.com has devised some of the most exciting and outrageous advertising campaigns in the past few years. Recently, items such as the Virgin Mary Grilled Cheese Sandwich, Britney Spears? Pregnancy Test, and Pope Benedict XVI?s previously-owned VW Golf have garnered extensive worldwide media attention for the casino.


« Back to

Charity Events Main Page






Comments on this event
---
On August 14th, 2005 at 1:29 AM winter said:



you go do what you want but do it.
---
On August 14th, 2005 at 2:41 AM goldengirl1985 said:



You rock Golden Palace to do this for MS and for to have a unique person to do the crazy act..hey do they have motorized wheelchair races for the bulls.......lol I would need a jet engine though... Thank you J, M and R. I hope you will still help me with my MS Telethon... please contact me I need help...........JW has my contact info.
---
Add a comment