» Home » Auctions Events » Famous Faces Flood Windsor on Royal Wedding Day!
Famous Faces Flood Windsor on Royal Wedding Day!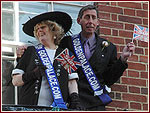 » View Photo Gallery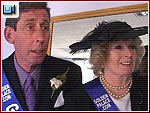 » Play Video

Windsor became "celebrity city" as famous faces appeared for Charles and Camilla's eagerly anticipated wedding day.



LONDON, 09 April 2005 - Windsor wedding watchers were startled and delighted today to see some very familiar famous faces popping up to join in the jubilations.

Yet even more surprising was that many of these famous faces belonged to those who have been dubbed by media as NFIs ("Not Formally Invited").

From Elton John to Paris Hilton, Liz Hurley to Michael Jackson, some unlikely faces were waving to passers by from the Private Room of Number 1 Thames Street. The venue was that which hit media headlines in the past week when it was auctioned off on eBay to winning bidder GoldenPalace.com.

CEO Richard Rowe had said at the time of the GoldenPalace.com's eBay win "GoldenPalace.com is delighted to be joining Charles and Camilla for their Windsor celebrations. We have a network of international stars and celebrities that work with us, and they will definitely be first on our VIP list!"

...This turnout was surely beyond anyone's wildest expectations!

*Lookalikes were provided by Susan Scott Lookalikes.

NOTE:

The eBay Windsor Wedding view room auction closed at 17:36:35 BST on 01 April 2005. GoldenPalace.com's winning eBay bid was for £800. The funds generated will go to the Prince Philip Trust Fund.


« Back to

Auctions Events Main Page






Comments on this event
---
None yet. You could be the first!
---
Add a comment