» Home » Auctions Events » Miracle Tree Joins Online Casino?s Collection of Divine Items.
Miracle Tree Joins Online Casino?s Collection of Divine Items.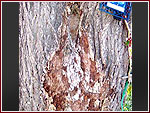 » View Photo Gallery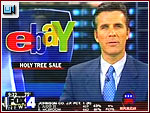 » Play Video

View the eBay Auction.

GoldenPalace.com Buys Virgen De Guadalupe Tree on eBay

TUESDAY, MARCH 07, 2006, DALLAS, TX -- It?s been said that God works in mysterious ways. And it doesn?t get much more mysterious than this?the image of the Virgen De Guadalupe in a tree sold on eBay for $5000 to internet casino GoldenPalace.com.

GoldenPalace.com is the internet gaming company that has become famous over the past few years for their eBay shopping sprees, and especially for their ever-increasing collection of eccentric and religious themed items like the Virgin Mary Grilled Cheese Sandwich and others.

The live tree is located in South Dallas and the image first appeared in November 2005. It has since been swarmed with thousands of visitors and believers. A shrine with candles, rosary beads, and bottles of holy water have been laid at the foot of the tree, which has received widespread attention from American and Mexican media.

?GoldenPalace.com will continue to encourage visitors to witness this phenomenon, and it will also make a great addition to our collection of divine paraphernalia,? said GoldenPalace.com CEO Richard Rowe. ?Thousands have been to see the tree and the eBay webpage received over 10,000 visitors. Obviously this is something that people believe in and they are affected by it. We hope that our acquisition of the tree will increase its exposure and help to share it with the world.?

The eBay auction for the tree was launched and managed by iSold It, the leader in the emerging Internet drop-off store category and the number one seller on eBay. "The Penas, sellers of the auction, wanted someone who would handle the eBay sale of this special item with respect and sensitivity," said David Goldstein, co-owner of iSold It's North Dallas/Addison store.

Setting the standard in marketing creativity, GoldenPalace.com has devised some of the most exciting and outrageous advertising campaigns in the past few years. Recently, items such as the Virgin Mary Grilled Cheese Sandwich, Britney Spears? Pregnancy Test, and Pope Benedict XVI?s previously-owned VW Golf have garnered extensive worldwide media attention for the casino.


« Back to

Auctions Events Main Page






Comments on this event
---
On March 11th, 2006 at 5:07 PM Mr. Safety Professional Idiot said:



Nice buy! I will be in Dallas with my golden palace tattoo and I am definately going to check out that tree. Thank you Golden Palace for sponsoring my comedy tour.. it's great that you promote this kind of positivity : )

-Mr. Safety Professional Idiot
---
On March 15th, 2006 at 9:28 PM SHIMMER said:



HOLY BIG TREE!
---
On March 28th, 2006 at 4:50 AM goldengirl1985 said:



wow it is something. GG
---
On March 28th, 2006 at 12:57 PM Glunks said:



Like to see people branching out.
---
Add a comment