» Home » Auctions Events » If You Can't Beat It, Buy It: Bring The Michael Jackson Trial Home
If You Can't Beat It, Buy It: Bring The Michael Jackson Trial Home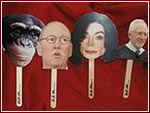 » View Photo Gallery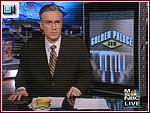 » Play Video

GoldenPalace.com Wins eBay Auction For Michael Jackson Puppet Theatre From MSNBC Hit Show



View the eBay Auction.

May 13, 2005, USA -- Live the drama of the Michael Jackson trial in the comfort of your own home without locking up your children. GoldenPalace.com has won the auction for the Keith Olbermann Michael Jackson Puppet Theatre for $15,099.

The "puppets" are actually the Popsicle sticks used on the Michael Jackson Puppet Theatre skit featured on MSNBC's Countdown with Keith Olbermann, and are autographed by the popular TV personality.

The money generated from the auction will go to The Celiac Sprue Association, a non-profit organization dedicated to helping individuals with Celiac Disease and Dermatitis herpetiformis, of which Olbermann has a mild case.

"This was a great opportunity to help a worthy cause as well as generate some attention," said GoldenPalace.com CEO Richard Rowe. "We are fans of Countdown and enjoyed the Michael Jackson Puppet Theatre in particular. It was a hilarious satire. When we heard about the eBay auction, it was a done deal."

GoldenPalace.com has become a household name as a result of the enormous media coverage received from such auctions as the Virgin Mary Grilled Cheese Sandwich, Britney Spears' Pregnancy Test, and Pope Benedict XVI's previously-owned Volkswagen Golf.

Check out MSNBC's Countdown With Keith Olbermann tonight for more on GoldenPalace.com winning the Michael Jackson Puppet Theatre auction.


« Back to

Auctions Events Main Page






Comments on this event
---
On August 24th, 2005 at 8:56 PM George said:



When I first saw these, I thought they were thermometers. Hey, there might be a marketing idea here...make a Michael Jackson rectal thermometer. Next time your kid refuses to wear his hat and scarf, show him the thermometer and say "remember the last time you had a cold?".
---
On September 04th, 2005 at 10:13 PM bigga said:



hahahahahah
---
On September 15th, 2005 at 9:41 PM John Lennon said:



Wow, that 3rd popsicle stick (3rd from the left) is really hot!! I've never seen Yoko Ono look better! When did she stop wearing those huge, ridiculous sunglasses?
---
Add a comment