» Home » Auctions Events » First Ghost Sold on eBay - GoldenPalace.com Buys Another Paranormal Item
First Ghost Sold on eBay - GoldenPalace.com Buys Another Paranormal Item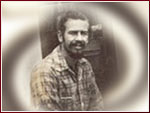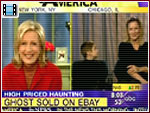 » Play Video

View the eBay Auction.

ST. JOHNS, ANTIGUA, DECEMBER 6, 2004 -- GoldenPalace.com, the online casino that recently bought the immensely popular Virgin Mary Grilled Cheese Sandwich, has just bought another paranormal item on eBay, a haunted walking cane for an unbelievable $65,000.

The seller claims that the ghost of her dead father manifests the cane and has scared her five-year-old son repeatedly. The seller's father died recently after battling lung cancer for over a year. He died peacefully in his sleep but the child claims to have been visited repeatedly by his apparition. In life, the deceased used the walking cane to tap the child when he was misbehaving.

"This is a fascinating situation, as the seller honestly believes in the supernatural nature of this item," said Richard Rowe, CEO of GoldenPalace.com. "We felt that this would be an incredible opportunity to show the world the cane and let people decide for themselves. We also hope the seller's family can now finally be at peace and we wish them all the best."

GoldenPalace.com made headlines just last week when they purchased the Virgin Mary Grilled Cheese Sandwich from Florida's Diana Duyser. The ten-year-old, remarkably mold-free sandwich bears the image of a woman's face that many people see as being the blessed virgin. The casino is currently taking the sandwich on tour across the southern US to Las Vegas.

GoldenPalace.com has become familiar with online auctions, having recently purchased several items and using them to generate over $300,000 for various charities including raising awareness for Multiple Sclerosis, The American Red Cross Disaster Relief Fund, Noah's Wish, and the Shoot for a Cure foundation for spinal cord research.

Click here to make a donation to the American Lung Association.


« Back to

Auctions Events Main Page






Comments on this event
---
On August 16th, 2005 at 1:24 AM mallory said:



this is so cute. It brings a smile to my face..
---
On September 26th, 2005 at 7:15 PM Debbie said:



You're welcome to come and take the man, woman, and girl that have haunted this land for more than 30 years. The man is a restless type, the lady is calm, the child is mischievous. They've been here a long time. A friend of mine is from Hawaii and is sensitive to these things. She had no prior knowledge and described them to me weeks after her first visit to my home. If these three ghosts can help, you can find them at Ebay now. Just type in Haunted Home or look it up by the number. Pictures are included. The number is 5619509503
---
On October 26th, 2005 at 12:54 PM Seth said:



Wow Debbie -- its pretty sad that you have to advertise your auction here. I see this is the second time its been listed. Take a hint.
---
On November 06th, 2005 at 5:42 PM Mary said:



It's been a while since I've came to this site, I had no idea they made a comment board! Pretty cool!
Hope no one could tell how nervous I was in that interview..lol
---
Add a comment