» Home » Auctions Events » GoldenPalace.com To Be First Permanent Forehead Ad Tattoo
GoldenPalace.com To Be First Permanent Forehead Ad Tattoo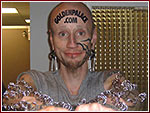 » View Photo Gallery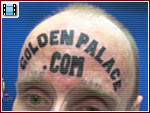 » Play Video

View the eBay Auction.

Internet Casino GoldenPalace.com will leave a lasting impression on "The Human Pincushion" Brent Moffatt, who auctioned off his forehead on eBay, offering the highest bidder the opportunity to permanently tattoo their brand on his bald head. This auction is unique because it differs from other auctions offering ad space on body parts, as it will be a permanent tattoo as opposed to a temporary one.

Moffatt will literally have "GoldenPalace.com" on the brain. Not just any skinny, tattooed, pierced, bald billboard, Moffatt has already received worldwide media attention for his excessively impaled body. He has the distinction of being in the 2005 edition of the Guinness Book Of World Records, as well as having appeared all over the world on major print, radio, and television media outlets including CNN, the National Enquirer, Weekly World News and even the Sept 2004 issue of Playboy.

On his eBay auction page, Moffatt promises to use his visibility and notoriety to promote the winning bidder's brand to the fullest. Always craving high-profile advertising, GoldenPalace.com couldn't be more pleased to hear it.

"Golden Palace.com has a history of creative and eccentric use of tattoo," said GoldenPalace.com CEO Richard Rowe. "Not only are we a leading Online Casino, but we like to keep abreast of the times using innovative and wacky body tattoo ideas. It is fun, it is new, and it makes people laugh. After all, Golden Palace.com is in the entertainment business."


« Back to

Auctions Events Main Page






Comments on this event
---
On September 04th, 2005 at 1:05 PM king midas said:



it should say idiot.com on his forehead
---
On September 23rd, 2005 at 11:43 PM Awchy said:



What a dope!
---
On September 26th, 2005 at 1:19 AM mermaid said:



so, so very sad.
---
On October 29th, 2005 at 4:21 AM Ana Torres said:



Why is all so cruel, he is a sweet down to earth person and yes he is extremely but we all have a wild side of us in us.
What he has done is what no body has the guts to do, so don't hate him or slander him, he is himself and I am sure a whole lot better person then you all who wrote these rude comments about him. You don't know him so don't say anything.
---
On October 31st, 2005 at 8:42 PM You don't know me either said:



He might be sweeter than Strawberry Shortcake - he's still a putz! I don't hate anybody, but what kind of nutjob mutilates himself like this??
---
On January 11th, 2006 at 5:40 PM NLREBEL said:



WHOA! Fuh-REAKY! Rock On! NL
---
On January 12th, 2006 at 8:57 AM Krisis said:



You can find a very good review of his situation in the internet article "local idiot wins auction, looses life". Just google Moffatt and you'll be there.
---
Add a comment