» Home » Auctions Events » Cliff-diving car to sport GoldenPalace.com logo!
Cliff-diving car to sport GoldenPalace.com logo!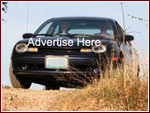 » View Photo Gallery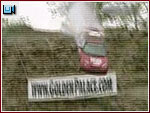 » Play Video

View the eBay Auction.

GoldenPalace.com will advertise on a car as it?s driven off a cliff! For a winning bid of $2,550.00, the online casino purchased the right to have its logo plastered all over the seller?s 97 Dodge Neon. Some ?Good Ole Boys? from Joplin, MO, will be sending the car over a 150 foot cliff on April 29th, 2006, and filming it for posterity. They say that there could be as many as four TV stations covering the event for their news broadcasts, as well as local newspapers and a live audience predicted to number in the hundreds. So, in other words, loads of great exposure for GoldenPalace.com!

This is definitely a first for GoldenPalace.com and maybe a first for eBay as well. Here?s the seller?s description of how the event will transpire: ?It will start with a victory lap ? The car will then drive up in front of the crash crazed crowd for Photo ops and goodbyes also to allow the Press and News Crews to get their last shots of the car before it dies forever! The car will then drive around to the top of the cliff where we will put Thelma and Louise, our volunteer blow up dolls, in and buckle them in the front seat. Next we will jack up the car and put a big brick on the gas pedal and the rest will be American History!! When we push her off the jacks and she goes blazing off the 150 foot cliff!!!?

This isn?t the first vehicle that GoldenPalace.com has advertised on, but it is the first one that will be destroyed in the process. You?ve probably heard about the tornado chasing Hummer belonging to the Multi-community Environmental Storm Observatory, and of course, the Volkswagen Golf that used to belong to Pope Benedict XVI. Who knows what might be around the corner for GoldenPalace.com to buy online? Keep tuned to this website to keep up-to-date on all the latest online auction buys.


« Back to

Auctions Events Main Page






Comments on this event
---
On April 30th, 2006 at 4:27 PM stoneboards said:



great stunt cant wait for the video
---
On May 13th, 2006 at 2:24 PM golden_chest_granny said:



Great video you guys!! Looks like ya'll had a blast doing this. What a great cause too! GOLDENPALACE.COM is still #1
---
On June 04th, 2006 at 6:18 PM Dwight B said:



Sure was fun, wish I could have stayed for the whole thing--
---
On July 15th, 2006 at 8:58 PM Brynjar said:



The description is confusing.
Firstly there where more than ONE car. second the prize for doing this is too low.
I would not destroy one car for this prize. let alone more than one.
---
Add a comment